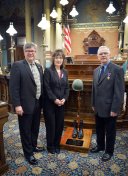 LANSING, Mich. — Sen. Tom Casperson welcomed Roy and Julie Hinkson of Manistique to the state Capitol on Thursday for the Michigan Senate's 23rd Annual Memorial Day Service, which honored Michigan's fallen soldiers.
Roy Hinkson served in the U.S. Army. While serving in Vietnam, Roy was shot 13 times and was awarded a Purple Heart.
"I was proud have Roy and Julie Hinkson as my guests for the Senate's solemn tribute to our fallen heroes," said Casperson, R-Escanaba. "We must never forget those who gave their lives defending liberty, and we owe it to them to celebrate everything they fought and died to protect. That is why having the Hinksons with me for the ceremony was so poignant. Roy served our nation and was wounded in the Vietnam War and he is still fighting for personal liberty today."
Earlier this year, Roy and Julie Hinkson told the Senate Natural Resources Committee about an issue related to their private property surrounded by the Hiawatha National Forest. The land has been home to his family's deer camp for more than 60 years.
In 1976, the original cabin was destroyed by fire. At that time, the U.S. Forest Service (USFS) suggested that the new cabin be built 25 feet east of the original cabin to avoid any boundary encroachment concerns. Despite taking the USFS up on that suggestion, Hickson recently learned that the cabin is situated on federal forestland.
"However, Roy didn't learn about the encroachment by way of a phone call, letter or the like, but rather when the forest service, with assistance from other government agencies, stormed the camp with guns drawn," Casperson said. "If that was not troubling enough, rather than simply asking him to work with the very agency that originally suggested where the cabin should be located, the forest service issued him two criminal citations for the claimed encroachment, which he has spent significant time and money fighting.
"The unwarranted treatment of an honorable veteran and private property owner is extremely troubling. Roy Hinkson's situation has adversely impacted him, his family and a community that cares about him. Their battle is about our rights and freedom from an overzealous government."
###
Editor's note: The above photograph is available by clicking on the above image or by visiting www.SenatorTomCasperson.com/Photowire.